Investment Conundrums: Newton CIO Custard eyes 'significant bounce back' for post-coronavirus China
Taking advantage of opportunities from "short-term market dislocations"
Newton Investment Management funds have been adding to positions hit hard by the sell-off linked to the coronavirus, with the firm anticipating a "significant bounce back" in Chinese growth when the health crisis is brought to an end, according to CIO Curt Custard.
Despite market fragility as a result of the coronavirus, which is expected to restrict Chinese GDP growth by 1% to 2% in Q1 2020, the BNY Mellon Investment Management boutique is "seven-out-of-ten" bullish on risk assets, which would only be impacted by a sudden change in direction on central bank monetary policy, Custard explained.
S&P forecasts hit to China's economic growth in 2020 from coronavirus
The coronavirus sell-off saw the MSCI China fall by nearly 10% between 15 January, when the World Health Organisation issued its official statement, and 31 January.
Having since recovered largely owing to support from the Chinese government, the index was down 2.4% over one month to 15 February, according to FE fundinfo.
The financial impact has not been entirely isolated to China, with global companies with exposure to China having their supply chains and wider businesses affected.
Speaking to Investment Week, Custard said the coronavirus has led to "dislocations in the marketplace", particularly in sectors such as consumer goods, and Newton IM has been "identifying securities or asset classes that may be more depressed than normal".
He added: "There are areas where people are reacting emotionally rather than logically. We view this as a human tragedy but as one that hopefully will be relatively temporary in nature, and so the short-term market dislocations are such that there are opportunities we are able to take advantage of."
Buying signals
Custard explained that buying has taken place across Newton's fund range, particularly within those with a yield discipline.
Year of the Rat: A new dawn for China?
The firm has a buying signal based on earnings yield and fallen prices have meant that some securities "have become eligible for us to purchase", which Custard describedas "exciting".
He added: "It has allowed us to look in depth at some of our emerging market purchases and add to various positions.
"On a forward basis there will be more dispersion in the marketplace, which will allow us to be able to pick better stocks and generate more alpha."
From an economic perspective, Custard said markets are overestimating the impact of the coronavirus on China and underestimating the country's capacity to "bounce back" when the coronavirus crisis comes to an end.
He added: "The bounce back will be significant. The economic data we have right now is only proxies - we have high frequency data coming out about the number of cars on the road, electricity usage, and so on. But how much of that is going to have an impact on the genuine GDP data?
"When the Chinese economy begins to rev up as people start going back to work and as commerce begins to rejuvenate, I am expecting the bounce back will be significant."
Rapid repositioning on rate changes
On a more general basis, Custard explained the firm remains long risk assets "broadly" across its fund range, describing the positioning of its flagship Real Return fund, which is a "seven out of ten" in terms of bullishness, as indicative of the wider positioning of Newton's range.
Lindsell Train 'took advantage' of coronavirus sell-off panic
However, he said if markets were to be hit with a sudden change in direction on central bank policy decisions, Newton IM "will have to adjust our positioning pretty rapidly".
Custard added: "The marketplace is really looking through a lot of risks right now. We have faith that that is going to continue to be the story [for the meantime], and that just makes any rally that we see a little bit more tenuous.
"We are banking, as a lot of asset managers are, that there would be a monetary policy response if there was a significant correction in the marketplace and rates would be lowered.
Custard also noted any rise in goods price inflation could also force central banks to cut rates, which has the potential to trigger "a wholesale change in perspective".
He added: "Monetary policy has remained accommodative for the better part of a decade. With the exception of the taper tantrum, we have had a pretty easy ride on monetary policy and the markets have climbed walls of worry.
"I would expect that to be the case going forward. If however, we see because of tight labour markets or tariff issues, for example, a rise in goods price inflation that would raise a big warning sign for us."
The £5.9bn AUM BNY Mellon Real Return fund, which is co-managed by Aron Pataki, Suzanne Hutchins and Andy Warwick, has returned 11.9%, 16.2% and 20.1% over one, three and five years respectively, compared to its LIBOR GBP 1m + 4% benchmark, which has averaged 4.8%, 14.4% and 24.8% over the same time periods respectively.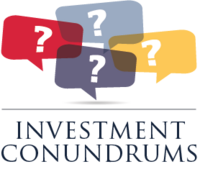 Investment Conundrums
In this new series, Investment Week speaks to senior figures at asset management and wealth firms about the big global debating points for managers and investment committees
Back to Top