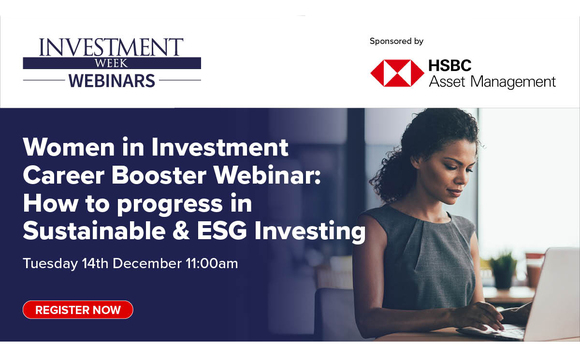 Investment Week was pleased to host the fourth in our series of Career Booster webinars linked to our Women in Investment Awards, in association with HSBC Asset Management, focusing on helping women progress and thrive in sustainable and ESG investing roles.
The webinar was held on Tuesday, 14 December and you can watch on demand here.
This webinar would be of interest to women who are in the early stages or want to build on their career in sustainable and ESG investing, as well as those who would like to learn more about developing their skills and incorporating sustainable and ESG considerations into their current role.
Our panel shared the secrets of their success building a career in sustainable & ESG investing. They highlighted the opportunities for women in this exciting and rapidly-expanding area, where women are taking a leading role in setting the agenda and driving change.
The panel gave practical advice on how our audience can expand their skills and contacts, find the right roles for them, as well as negotiate an industry in transition and stay on top of recent developments.
They also discussed how women can have influence at firm and industry level to help champion sustainable and ESG investing.
Our panellists for the webinar were:
Erin Leonard, head of sustainability, HSBC Asset Management

Amanda Young, global head of responsible investment, abrdn

Paris Jordan, multi-asset analyst, Waverton Investment Management, and co-founder of ethical investing network, Virtuvest