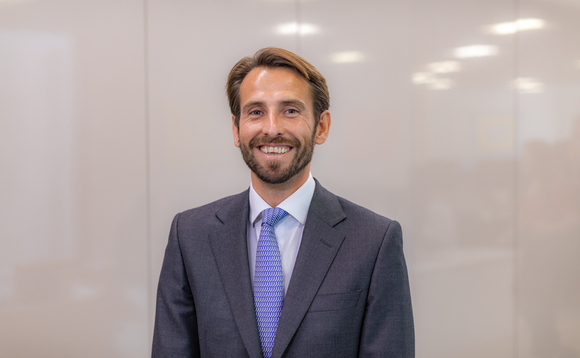 Capital at risk. The value of investments and the income from them may fall as well as rise and is not guaranteed. Investors may not get back the full amount invested.
Can you give a brief overview of your strategy in terms of what you are trying to achieve for investors, your investment process and the make-up of the investment team?
Dynamic Credit Income strategy* (DCI) is designed for investors seeking outperformance in rising credit markets without taking excessive risks. To achieve this:
We focus on maintaining a high level of portfolio yield throughout the credit cycle, while searching for opportunities presented by dislocated markets.
The portfolio combines macro analysis with Muzinich's traditional focus on bottom-up credit selection. We first aim to identify rising and falling trends across the credit universe and then leverage the experience of our 30-person global credit research team to find the names that best reflect these trends. The portfolio will be actively positioned depending on where we are in the credit cycle and will have additional flexibility to be fully invested even in dislocated markets with the aim to generate a higher long-term return at the cost of higher volatility. The investment team will be able to hold credits through mark-to-market volatility hence the focus on thorough bottom-up credit research. The use of hedging to dynamically adjust the beta of the portfolio's overall credit exposure while remaining invested will be utilized to help limit drawdowns during market dislocations. The strategy will also benefit from comprehensive ESG integration, socially responsible exclusions and a carbon efficiency target and will qualify as an article 8 product under the EU Sustainable Finance Disclosure Regulation.
Michael McEachern is the lead portfolio manager and responsible for the asset allocation and risk management. He is supported by Co-Portfolio Managers Brian Nold and Warren Hyland. Another 6 portfolio managers provide individual credit selection. The investment team has an average of over 20 years industry experience.
How are you positioning your portfolio for the rest of the year and looking ahead to 2022?
The DCI model portfolio is currently positioned (as of the end of December) with a higher yield (3.92% vs 3.79%) and lower duration (4.39 vs 4.94) than the reference index (70% BB/B & 30% BBB)¹. Beta is neutral to the index at 1.0x with a range during 2021 as high as 1.3x and a low of 0.96x. The CDX HY index hedge was originally established in August and grew to (10%) and was reduced to the current (5%) position at of the end of November.
The model portfolio is slightly overweight high yield globally with an overweight position in single B versus underweight BB. By asset sleeve, the portfolio is overweight emerging markets (EM) at 22% vs the index at 16% with an overweight EMIG versus an underweight in EMHY. DCI is underweight EUIG but more neutrally positioned when factoring in the portfolio's CLO allocation. In the US, the portfolio is underweight IG and slightly overweight HY.
Entering 2022, we expect yield will remain an important driver of return. We also remain vigilant regarding the potential for volatility which could create additional buying opportunities given the strong fundamental backdrop.
Can you identify a couple of key investment opportunities for your fund you are playing at the moment in the portfolio? This could be at a stock, sector or thematic level.
Given the backdrop of continued strong fundamentals and generally improving balance sheets, the DCI model portfolio has allocated close to 10%, or between 20-25% of the USHY allocation, of the model portfolio to a "Rising Star" theme. These are highly rated HY credits which we believe are upgrade candidates to IG over the next 6-18 months. Upon eventual upgrade, we believe these credits can experience attractive upside price convexity given additional spread compression potential.
Another thematic opportunity remains the "Reopening Theme" which represents around 10% of the model portfolio across the global sleeve allocations. The thematic basket, which offers attractive yield, is comprised of a combination of airlines, cruise lines, shipping, and leisure allocations in credits with strong liquidity and competitive positions to weather the potential for additional reopening related volatility.
By sector as of the end of December, the DCI model portfolio is overweight cyclicals, banking, diversified financials and communications. Underweight sectors include utilities, energy, capital goods, technology and basic industrials.
Click here to learn more about Muzinich
¹Reference index: 70% of HW40 - ICE BofA BB-B Global High Yield Index. 30% of GBC4 - ICE BofA BBB Global Corporate Index. The reference index and the weight assigned to each of its two component indices seek to represent the proposed strategy's targeted investment universe (both developed and emerging market corporate securities with investment grade and below investment grade ratings) and how the strategy will typically seek to achieve its income and capital appreciation objectives.
*The proposed Strategy has not been launched, all objectives, targets and characteristics are subject to change. No legally binding terms shall be created until definitive documentation is executed and delivered. The above information is based on a model portfolio and no actual investments have been made. There is no guarantee that once launched the portfolio will invest in the same way as described above. The proposed strategy will be actively managed and may at times seek to make investments outside of the targeted universe represented by the reference index.
SFDR - Refers to Regulation (EU) 2019/2088 or the Sustainable Finance Disclosures Regulation (SFDR) a piece of European financial sector regulation which sets out obligations for financial market participants to disclose specific details on their approach to sustainability risks in their investment process and other details on the provenance of ESG claims that are used to market their financial products. Further details on Muzinich's SFDR disclosures are available in relevant product documentation such as fund prospectuses and supplements on our website www.muzinich.com
This material is not intended to be relied upon as a forecast, research, or investment advice, and is not a recommendation, offer or solicitation to buy or sell any securities or to adopt any investment strategy. The opinions expressed by Muzinich & Co are as of 31 December 2021 and may change without notice.
This post is sponsored by Muzinich
Important Information
This material relates to a strategy that has not yet been launched and so all characteristics, timelines and objectives are subject to change and there can be no guarantee that they will be achieved or followed. This document is for informational purposes only and does not constitute an offer or solicitation of an offer, or any advice or recommendation, to purchase any securities or other financial instruments, and may not be construed as such. To the extent any strategy described herein is offered in a pooled vehicle, interests in the pooled vehicle will be offered only through its offering documents, which would describe the vehicle's investment strategy and risks of investment in more detail. To the extent any such strategy is offered in a separately managed account, the exact investment guidelines and restrictions would be included in an investment management agreement. The material in this presentation is directed only at entities or persons in jurisdictions or countries where access to and use of this information is not contrary to local laws or regulations.
Muzinich & Co. referenced herein is defined as Muzinich & Co., Inc. and its affiliates. This material has been produced for information purposes only and as such the views contained herein are not to be taken as investment advice. Opinions are as of date of publication and are subject to change without reference or notification to you. Past performance is not a reliable indicator of current or future results and should not be the sole factor of consideration when selecting a product or strategy. The value of investments and the income from them may fall as well as rise and is not guaranteed and investors may not get back the full amount invested. Rates of exchange may cause the value of investments to rise or fall. Emerging Markets may be more risky than more developed markets for a variety of reasons, including but not limited to, increased political, social and economic instability; heightened pricing volatility and reduced market liquidity.
Any research in this document has been obtained and may have been acted on by Muzinich for its own purpose. The results of such research are being made available for information purposes and no assurances are made as to their accuracy. Opinions and statements of financial market trends that are based on market conditions constitute our judgment and this judgment may prove to be wrong. The views and opinions expressed should not be construed as an offer to buy or sell or invitation to engage in any investment activity, they are for information purposes only.
The attached material is provided to you on the understanding that as a sophisticated person, you understand and accept its inherent limitations and will not rely on it in determining to engage Muzinich. The investment strategy and themes discusses herein may not be suitable for investors depending on their specific investment objectives and financial situation. Before making a decision to invest a prospective investor should carefully review information respecting Muzinich and, where applicable such fund (including without limitation the definitive offering documents of such fund) and consult its own legal, accounting, tax and other advisers in order to independently assess the merits of an investment. There can be no guarantee that the objectives in this presentation will be achieved and no guarantee that they will be applied uniformly across all Muzinich strategies.
All information contained herein is believed to be accurate as of the date(s) indicated, is not complete, and is subject to change at any time. Muzinich hereby disclaims any duty to provide any updates or changes to the analysis contained herein. Certain information contained herein is based on data obtained from third parties and, although believed to be reliable, has not been independently verified by anyone at or affiliated with Muzinich & Co. Limited. ("Muzinich"); its accuracy or completeness cannot be guaranteed. This document and the information contained herein, is intended solely for the intended recipients and their authorized agents and may not be disclosed or distributed to any other person in any fashion without the prior written consent of Muzinich. No regulator or government authority has reviewed this document, or the merits of the products and services referenced herein.
The characteristics of the model portfolio are intended as a general illustration of some of the criteria considered in selecting investments. Changes in the assumptions would have a material impact on results. The actual portfolio construction may vary from the model portfolio. The presentation may include projections or other forward-looking statements regarding future events, targets or expectations. The value of investments and the income from them may fall as well as rise and is not guaranteed and investors may not get back the full amount invested. There is no guarantee that projected returns or risk assumptions will be realized or that an investment strategy will be successful. No representation or warranty is made as to the reasonableness of the assumptions made or that all assumptions used in achieving the returns have been stated or fully considered.
Any illustrative models presented in this document are based on a number of assumptions and are presented only for the limited purpose of providing a sample illustration. Any sample illustration is inherently subject to significant business, economic and competitive uncertainties and contingencies, many of which are beyond Muzinich's control. Any sample illustration is not reflective of any actual investment purchased, sold, or recommended for investment by Muzinich and are not intended to represent the performance of any investment made in the past or to be made in the future by any portfolio managed or advised by Muzinich. Actual returns may have no correlation with the sample illustration presented herein, and the sample illustration is not necessarily indicative of an investment that Muzinich will make. It should not be assumed that Muzinich's investment recommendations in the future will accomplish its goals or will equal the illustration provided herein. A more detailed description of the assumptions utilized in any of the simulations, models, and/or scenario analyses is available upon request. Hypothetical or model characteristics and performance results have certain inherent limitations. Unlike an actual performance record, model portfolio and results do not represent actual trading. Also, since the portfolios represented do not represent actual investment portfolios, the results may have under- or over-compensated for the impact, if any, of certain market factors, such as lack of liquidity or market disruptions. Modeled trading programs in general are also subject to the fact that they are designed with the benefit of hindsight. No representation is being made that any account will or is likely to achieve characteristics, profits or losses similar to those shown.
Portfolio characteristics and performance of the representative account(s) reflected herein may not be fully representative of other Global multi-asset credit portfolios Muzinich manages.
Risk management process includes an effort to monitor and manage risk but does not imply low risk.
This presentation references certain proposed internal targets and guidelines relating to the Strategy. There is no assurance that the targets will be achieved or guidelines met. In addition, the targets and guidelines are subject to change from time to time at the discretion of the Investment Manager without notice.
This discussion material contains forward-looking statements, which give current expectations of a strategy's future activities and future performance. Any or all forward-looking statements in this material may turn out to be incorrect. They can be affected by inaccurate assumptions or by known or unknown risks and uncertainties. Although the assumptions underlying the forward-looking statements contained herein are believed to be reasonable, any of the assumptions could be inaccurate and, therefore, there can be no assurances that the forward-looking statements included in this discussion material will prove to be accurate. In light of the significant uncertainties inherent in the forward-looking statements included herein, the inclusion of such information should not be regarded as a representation that the objectives and plans discussed herein will be achieved. Further, no person undertakes any obligation to revise such forward-looking statements to reflect events or circumstances after the date hereof or to reflect the occurrence of unanticipated events.
Issued in the European Union by Muzinich & Co. (Ireland) Limited, which is authorized and regulated by the Central Bank of Ireland. Registered in Ireland, Company Registration No. 307511. Registered address: 32 Molesworth Street, Dublin 2, D02 Y512, Ireland. Issued in Switzerland by Muzinich & Co. (Switzerland) AG. Registered in Switzerland No. CHE-389.422.108. Registered address: Tödistrasse 5, 8002 Zurich, Switzerland. Issued in Singapore and Hong Kong by Muzinich & Co. (Singapore) Pte. Limited, which is licensed and regulated by the Monetary Authority of Singapore. Registered in Singapore No. 201624477K. Registered address: 6 Battery Road, #26-05, Singapore, 049909. Issued in all other jurisdictions (excluding the U.S.) by Muzinich & Co. Limited. which is authorized and regulated by the Financial Conduct Authority. Registered in England and Wales No. 3852444. Registered address: 8 Hanover Street, London W1S 1YQ, United Kingdom.Ref:2021-12-30-7700