IW's 25th anniversary: From data to diversity - the changing face of the industry
The evolution of asset management since 1995
Five asset management leaders look back at their own careers and assess how the industry has evolved over the past 25 years.
Saker Nusseibeh, chief executive officer of Federated Hermes
By Lauren Mason
"I actually never intended to come to the City. I just ended up here by mistake."
Saker Nusseibeh, who made the 2020 New Year's Honours List, is CEO of Federated Hermes, a stewardship-focused firm running more than £33.8bn for its clients.
But in 1987, while Nusseibeh was in the throes of a history doctorate and "couldn't get a job teaching", he was rejected from a job in merchant banking and told not to become a broker because "he could not sell water to the Saudis". Shortly after this, he wound up in what he called a "third-rate business at the time known as asset management".
It was then that Nusseibeh joined Mercury Asset Management, where he ultimately became director of its international division.
"I had decided early on that I did not want to be on the UK equity desk - which was the prestigious desk in those days. I thought to myself, well I am an immigrant, so surely I can add value to other areas because I understand different cultures. So, I went to the European desk, then eventually the global desk," Palestinian-born Nusseibeh explains.
The CEO adds that, relative to his peers, he has also taken a differentiated approach to investing by "asking basic questions, like - why?"
"I was always concerned with social justice, I was very questioning of what we do when we invest our money," he explains.
Asset management gender pay gap 'worse than last year'
Nusseibeh's holistic approach to investing came to a head in 2009, when he returned from working in the US shortly after the Global Financial Crisis.
"I was really angry. Everybody was angry about the bankers or the government, but I was angry at fund managers," he says. "Why? Because we knew it did not work. Why didn't we tell our clients? Because we said it wasn't our responsibility."
Nusseibeh has always focused heavily on stewardship when making investment decisions and when running the business - a theme he is now seeing across the asset management industry.
"The buzzword now is stewardship. People are finally coming around to it because it makes sense," the CEO continues. "ESG is simply long-term fundamental analysis that people had, until recently, forgotten about."
When it comes to the risk of greenwashing within asset management firms, Nusseibeh says there are "huge reasons for optimism" that this will dissipate over the next quarter century.
"While [Hermes was] a lone voice in the wilderness ten years ago, a lot of the stewardship and sustainability focus there is now pretend. But in my faith, we teach that it is okay to pretend to be moved by something, because the day will come when you believe it yourself," he explains.
"If you pretend global warming matters to you, and you are greenwashing because it is trendy among clients, you will read about it. And, if you read about it, you will start worrying."
Nusseibeh says the industry now needs to start focusing on gender, ethnic and cognitive diversity - a concept he says is often preached but rarely practised. In fact, he argues the industry is less diverse now than it was 25 years ago.
"If you do not pursue diversity in your business you are, by definition, stupid," he says. "Unconscious bias is human nature; we release serotonin when we meet somebody that looks like us. But we cannot employ a hoard of people with the same CFA qualifications and backgrounds because that is dangerous. This is why we need to break the cycle. As we did at Mercury, we must find people from all backgrounds and train them by 'doing'."
Karis Stander, managing director of Investment20/20
By Mike Sheen
When Investment Week was launched in 1995, Karis Stander was a student at the University of Cape Town (UCT) in South Africa.
It was not until her mid-20s that she began building a career in London.
Arriving in the City as a buyer for a fashion brand with no former experience in finance, Stander's background was not typical of someone applying for a job in the asset and wealth management sector.
"I ended up falling into a position in the investment management industry. It was a completely new area; I knew almost nothing about it and it was really by chance," she says. "It is a career path I fell into and then fell in love with."
Twenty years later Stander has several roles within the industry under her belt, including a stint at Financial Conduct Authority predecessor the FSA, and is now managing director of diversity initiative Investment20/20.
Founded in 2013 by former CEO of JO Hambro Nichola Pease and Jupiter CEO Andrew Formica, Investment20/20 provides access to school leaver and graduate trainee programmes across 50 partner firms, in addition to managing a trainee network.
Under Stander's leadership, which began in 2014, the initiative has seen more than 1,600 trainees pass through its programmes, while its grassroots outreach has extended to over 3,700 schools.
Investment20/20 programme boosts industry with more than 1,000 recruits since launch
"There are many young people who have transitioned off the Investment20/20 programme and are now successfully forging their careers at different levels of seniority across different parts of businesses," she says.
Reflecting on how the City has changed since her career began, Stander notes the physically different landscape, which is now dominated by great glass skyscrapers in a way it was not 20 years ago, in addition to more impactful changes in culture, attitudes and demographics.
She explains: "Back in those days 'culture' probably meant fine wine and a cigar; there really was no focus on diversity.
"Organisations are much more demographically diverse now than they were then."
Asked how she thought someone in the exact same position as her 20 years ago would fare in today's job market, Stander believes programmes such as Investment20/20 may have made things easier. However, she concedes that, overall, it may be more difficult today.
"Unintentionally over time, we have ended up putting in place barriers that people have to climb over in order to access entry points," Stander says.
"For many firms across financial services, unless you are a really academic student or have gone to the right university, you are going to struggle. Those barriers are needless and not really barometers of future potential."
However, Stander warns against a "box-ticking" approach to talent attraction in the future, whereby firms recruit based on gender, ethnicity or socio-economic background, for example.
Instead, she says, firms should be looking at prospective hires' "unique characteristics", while creating an inclusive culture with programmes in place to ensure an environment in which people of different backgrounds can be recruited.
"It is not about saying 'we need more women, we need more people from this group or more people from that group'," she explains.
"You will end up naturally getting those people applying and they will hopefully stay because they feel it is a respectful and inclusive culture.
"All of that, of course, needs to be worked on across the industry."
Anne Richards, chief executive officer of Fidelity International
By Beth Brearley
Fidelity's Anne Richards thought she had her career path mapped out for her as a research fellow at CERN in the 1980s.
But although she enjoyed designing control systems to go inside the Large Electron-Positron Collider, in a lightbulb moment she realised she needed "something with a bit more bite to it".
While studying for an MBA in general management Richards discovered financial markets and "just fell in love with them".
"I fell in love with the kaleidoscope, the constant changing pattern and trying to understand the interconnectivity between the strategy of the business, the financial performance of the business and the performance of the share price. I found it immensely stimulating. To be honest I still do. I still get a real buzz out of it."
Richards applied to several companies and was offered an interview with Fidelity.
"They did not hire me. So I was willing to wait a very long time to get that job, and happily Fidelity and I have finally come together."
Richards joined Fidelity as chief executive officer in December 2018, having spent two years as chief executive of M&G and 13 years as CIO at Aberdeen AM prior to that.
Anne Richards: Asset managers must unite to save capitalism
One of Richards' earliest memories of the industry was being shocked by the lack of technology.
"I joined CERN in 1985 and email was just becoming a thing. The web had not been invented, but we did big data.
"We had Cray supercomputers in the basement doing precision big data number crunching, and when I came into the investment management business less than three years later I was stunned by the lack of technology. Absolutely stunned.
"When we put on a trade we had a carbon copy form. You would write your trade, sign it, give one copy to the administrator and one copy to the dealer - I cannot remember what happened to all the copies now - but that was how you entered a trade and with hindsight it was extraordinarily primitive.
"The industry has had a wake-up call. We are a people business but we are so much more than a people business - probably more than anything we are a data business; we need to think about data as an asset."
On what advances we might see in technology over the next 25 years, Richards says it is "almost impossible to imagine".
"The lesson of the past 25 years is that our capacity to imagine where it might take us is so inadequate.
"We still have very long sequential processing chains. The connectivity is incredible, but the processing chain that sits behind that is very sequential.
"It is very long, and we still have custodians and sub custodians and depositaries and brokers and all sorts of other people who are involved in that chain. I think that chain is ripe for disruption.
"But I do not think anyone has cracked yet how we do that. But just like we have seen over the past 40 years in the total revolution of the way cars are produced, there is a lot of potential in our industry to do something that is as radical."
It is no surprise Richards sees technology being "a meaningful driver" for Fidelity over the coming quarter decade.
She adds: "The really big picture thing we observe is the demand for service replacing the historical demand for product. It is not that clients do not want products anymore, but they are looking for a broader set of service offerings that wrap around that.
"As an industry we are trying to learn how to adapt to that, what it means and how we offer it."
Martin Gilbert, chairman of Aberdeen Standard Investments
By James Baxter-Derrington
By the time Investment Week launched in 1995, Martin Gilbert had been heading up Aberdeen Asset Management for over a decade.
Having founded the firm in 1983, he is one of the longest serving FTSE chiefs and uniquely positioned to talk about an industry that has grown exponentially since then.
"It was a cottage industry then, and now it has grown into this gigantic industry," says Gilbert. "But the thing that has changed beyond all recognition is data.
"When we first started in Aberdeen, there were three of us in a room and the Financial Times arrived at about 11 o'clock in the morning.
"There was no data really until about the mid-eighties when the topic screens came in."
A lack of data is no longer a charge that can be levied at asset management, and the proliferation of information has brought both good and bad.
"It is just impossible now to really go through the information that is thrown at fund managers, there is so much.
"I think one of the benefits of artificial intelligence will be helping sort the data… it will be a tool to help asset managers.
"I do not think it will ever really replace the active decision making of humans, but I think it will aid human decision-making."
Data is not the only systemic change to have occurred during Gilbert's stewardship; ESG investing is here and is only growing.
"People under 35 will want to know that their fund manager is taking impact into account. Are they investing in the right companies which are doing good? I think we are just seeing the start of this sustainability drive."
Despite changing "beyond all recognition", the industry has retained some of the qualities of its younger days," Gilbert says.
"The interesting thing about asset management is that although we compete with each other, it is not like investment banking where they are trying to cut each other's throats.
"There is a camaraderie between the CEOs - I know all of them. We speak at the same conferences and we get on well."
Over the course of Gilbert's tenure, there were inevitably both highs and lows, and each event brought with it challenges for Aberdeen's chief.
"It is easy to be a CEO in the good times, so probably the thing I am proudest of is the worst times.
"From 2002 to 2004, the split-cap crisis almost brought us to our knees. We were lucky to survive that.
"Taking the company through [the crisis], selling all the bits of the business we had to sell… all of that was the worst moment but it was also what differentiated us. That makes or breaks you as a CEO."
How investors should respond to the climate crisis
In contrast, according to Gilbert, Aberdeen was the first asset manager to open an office in Singapore, an event he describes as the other "big moment" of his career.
"We wanted to build an Asian business and we thought the team had to be located in Singapore.
"I was born and brought up [in Asia] until I was about ten, but even until I was 30 I would go out there on all my holidays, so it was an easy decision for me to make."
As outgoing chairman, Gilbert is still keen to see further change in the industry, noting that "in asset management, gender diversity, or diversity as a whole has not been as quick as many of us would have liked".
"The graduate intake here is 50:50. You have to build from the bottom up and that is what we have done."
With his stewardship coming to an end, Gilbert offers advice not only for those at the beginning of their careers, but the CEOs with whom he maintains that camaraderie.
"Having the courage to go for the long-term even though you might take some short-term pain is the most difficult thing to do.
"If you concentrate too much on the short-term, it will catch up with you eventually."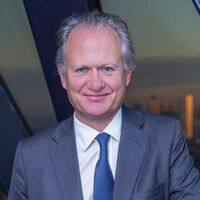 Richard Buxton, head of UK equities at Merian Global Investors
By David Brenchley
Reflecting on his 35 years in the industry, Merian Global Investors' Richard Buxton says that while great strides have been made on diversity in non-investment roles, firms have been "woeful" at attracting females into investment-related functions.
"The industry has got better at attracting women into non-investment roles and we have got lots of women in very senior positions in the firm," Buxton says.
"But [at] attracting them into the investment side - research, analysis, fund management - the industry has been woeful. That is bizarre because this is a job that women can be very good at.
"We have to, as an industry, do much better in terms of bringing it to people's attention that this is a really interesting industry to work in."
Buxton explains the industry needed to ensure it has "sensible approaches to maternity and paternity leave", as well as enabling people to leave the industry to have children and return: "It is perfectly do-able."
In general, Buxton notes the industry has become more professional over the past 25-plus years, which is of obvious benefit to end investors.
"These days it is much more professional in terms of qualifications, training and oversight.
"[Back then], people would give a few orders in the morning and then go for a nice lunch with a broker, who was paying for it.
"It has got to be a better environment and outcome for end clients that we have stripped out a lot of excess that someone was paying for, which was usually the end client."
Girls Are Investors: Tackling the root cause of the diversity issue
That said, Buxton argues that the growth of passive investment options means active fund houses must continue to strip out costs all the way down the chain.
"There are still so many agents in the chain - your financial adviser, your wealth manager, your asset manager, your platform - we have to be able to bear down on all the aspects of the people in the food chain that are taking their cut.
"We have got to demonstrate that all of the people in that chain are genuinely adding value and not over-charging for what they do. That is an ongoing challenge for the industry."
Buxton expects the trend towards passives, which he picked out as the biggest change since he began in the industry, to continue unabated.
"The genuinely high active share, high alpha [process] will become a minority sport," he predicts.
However, far from constraining the opportunities for active advocates, Buxton said the rise of passives should help.
"In theory, the more of the market that is owned and managed passively, it ought to be easier for the genuinely active manager to job against existing trends and valuations."
Elsewhere, Buxton says not a day goes by without clients asking questions about ESG, which he explains has been part of his investment process for most of his career.
That said, Buxton notes exclusionary screens may not be the most effective way to solve the issue.
He explains: "Early in the 1990s when I was at Barings, I invited Jonathon Porritt, who was the director of Friends of the Earth at the time, in to talk about issues of sustainability, water usage and packaging.
"We did not call it ESG at the time, but we did think companies needed to begin to think about this because, ultimately, customers will want to think that companies are doing the right thing."
Back to Top