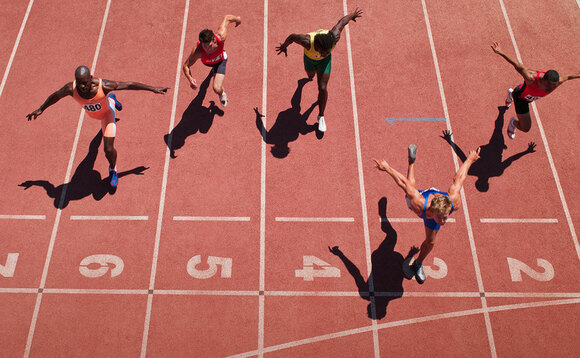 David Dudding, manager of the Threadneedle Global Focus Fund, discusses the advantages of going global, the industries that have thrived despite the global pandemic, and the dominant themes in the fund
As a bottom-up stock picker, David Dudding, manager of the Threadneedle Global Focus Fund, pays little attention to the macro events and themes in global markets. His fund is all about identifying strong franchises that boast a competitive advantage within their industry. Yet over the past 18 months, the macro backdrop has had an impact on even the most bottom-up of strategies, as the coronavirus pandemic ravaged whole industries and left the global economy on its knees.
The Threadneedle Global Focus Fund, however, managed to weather much of this storm as a result of its natural bias towards businesses that have thrived in the context of the pandemic. Though Dudding is quick to emphasise that the vehicle is by no means a thematic investment, themes have materialised from the stock picking efforts of the team.
Many of these, including e-commerce, digital payments and cloud computing, for example, emerged as winners during the pandemic. Similarly, the fund has a natural bias towards less commoditised industries and currently* holds no car makers, no airlines and no oil & gas companies, which puts it on the front foot when it comes to Environmental, Social and Governance (ESG) concerns - an issue of increasing importance to the fund's investors.
Dudding says the team strives to invest in companies that are deemed to be among the better performers on ESG metrics, or on their way to becoming such.
"It fits very nicely with our philosophy, because in some ways everything we are looking at is about sustainability of returns," he says. "You can't get this if you are cutting corners from a governance and especially from an environmental point of view, because these are business risks that will return to get you into trouble."
In many ways, the Threadneedle Global Focus Fund is a quality fund. Around 70%-80% of the vehicle is invested in companies that the team believe exhibit high returns, low levels of gearing and debt, and earnings stability, even during recessions. However, Dudding and his team have something up their sleeve that traditional quality funds lack. The remaining portion of the fund can be invested in companies that are improving and on their way to becoming quality companies.
*As of September 2021
Click here to learn how the team analyses the sources of competitive advantage.
This article was funded by Columbia Threadneedle Investments.
Key Risks
Investment Risk - The value of investments can fall as well as rise and investors might not get back the sum originally invested.
Currency Risk - Where investments are in assets that are denominated in multiple currencies, or currencies other than your own, changes in exchange rates may affect the value of the investments.
Effect of Portfolio Concentration -The Fund has a concentrated portfolio (holds a limited number of investments and/or has a restricted investment universe) and if one or more of these investments declines or is otherwise affected, it may have a pronounced effect on the fund's value.
Derivatives for EPM / Hedging - The investment policy of the fund allows it to invest in derivatives for the purposes of reducing risk or minimising the cost of transactions.
Volatility Risk - The fund may exhibit significant price volatility.
Important information
For use by professional clients and/or equivalent investor types in your jurisdiction (not to be used with or passed on to retail clients). Past performance is not a guide to future performance. The value of investments and any income is not guaranteed and can go down as well as up and may be affected by exchange rate fluctuations. This means that an investor may not get back the amount invested. Your capital is at risk.
Threadneedle Specialist Investment Funds ICVC ("TSIF") is an open-ended investment company structured as an umbrella company, incorporated in England and Wales, authorised and regulated in the UK by the Financial Conduct Authority (FCA) as a UK UCITS scheme.
This material is for information only and does not constitute an offer or solicitation of an order to buy or sell any securities or other financial instruments, or to provide investment advice or services.
Subscriptions to a Fund may only be made on the basis of the current Prospectus and the Key Investor Information Document, as well as the latest annual or interim reports and the applicable terms & conditions. Please refer to the 'Risk Factors' section of the Prospectus for all risks applicable to investing in any fund and specifically this Fund. The above documents are available in English only and may be obtained free of charge on request from Columbia Threadneedle Investments at PO Box 10033, Chelmsford, Essex CM99 2AL and from www.columbiathreadneedle.com
Please note that the outperformance target may not be attained. Please refer to the Fund Objective in the appendix for further information regarding the Funds benchmark.
The mention of any specific shares or bonds should not be taken as a recommendation to deal.
The analysis included in this document has been produced by Columbia Threadneedle Investments for its own investment management activities, may have been acted upon prior to publication and is made available here incidentally. Any opinions expressed are made as at the date of publication but are subject to change without notice and should not be seen as investment advice. Information obtained from external sources is believed to be reliable but its accuracy or completeness cannot be guaranteed.
Issued by Threadneedle Investment Services Limited. Registered in England and Wales, Registered No. 3701768, Cannon Place, 78 Cannon Street London EC4N 6AG, United Kingdom. Authorised and regulated in the UK by the Financial Conduct Authority.
Columbia Threadneedle Investments is the global brand name of the Columbia and Threadneedle group of companies.