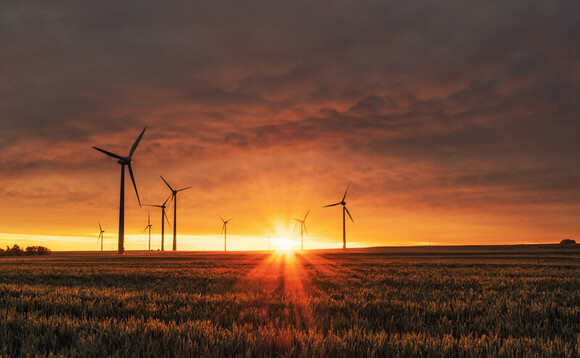 Fidelity International has launched a range of sustainable multi-asset funds, initially consisting of three OEICs: the Fidelity Sustainable Multi Asset Conservative, Balanced and Growth funds.
Each of the funds, based on asset allocations from Fidelity's Solutions and Multi Asset team, aims to deliver risk-controlled capital growth over the longer term. The OCF on each will be 0.5%.
The lower-risk funds will have a higher allocation to defensive assets, such as fixed income, while there will be more exposure to growth assets such as global and emerging market equities higher up the risk spectrum.
Fidelity to open 2021 with five further sustainable funds
A minimum of 70% of net assets of each fund will be invested in securities deemed to have sustainable characteristics, based on MSCI Sustainability ratings, and Fidelity's Sustainable Family exclusion policy will apply.
This means the funds will exclude companies involved in the production and/or distribution of cluster munitions and landmines and those that violate the United Nations Global Compact. They also exclude companies that derive more than 5% of their revenues from production and/or distribution of tobacco, weapons and thermal coal.
While the funds will be managed using a team-based approach, Nick Peters has been named lead portfolio manager with Ayesha Akbar co-portfolio manager.
Fidelity International cuts fees on multi-asset range
John Clougherty, head of UK wholesale at Fidelity International, said: "At Fidelity, ESG integration is an integral part of our investment process across all strategies as we believe that sustainability factors are material to long-term investment outcomes.
"With increased regulation and growing client demand, we recognise the importance to the UK adviser market of building sustainability considerations into suitability assessments and their fund section process.
"That's why for those clients who require an enhanced ESG screening, we are pleased to offer a growing selection of funds in our Sustainable Family of Funds spanning our equity, fixed income, ETF and now multi-asset franchises, providing a wide ranging but universal and robust approach to sustainable investing."

Sustainable Investment Festival, 22-25 June
Investment Week's parent company Incisive Media will host its inaugural Sustainable Investment Festival this summer, featuring keynote speakers, innovative breakout events and sessions to help investors navigate this rapidly-evolving area of the market. Click here for more information.