Blue Whale's Stephen Yiu: Embracing volatility and shunning top tech stocks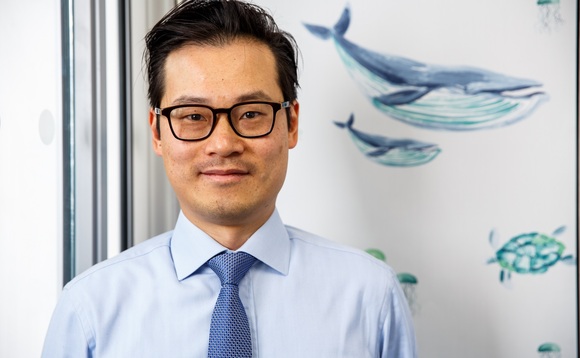 As Blue Whale Capital turns three, founder and fund manager Stephen Yiu talks to James Baxter-Derrington about how he has navigated Covid-related volatility and why he continues to shun the most discussed tech names
Blue Whale Capital celebrated its third anniversary this month by launching a UCITS mirror of LF Blue Whale Growth, bringing the flagship fund to both an institutional and a non-UK audience of investors.
High-flying Blue Whale Growth reveals post-coronavirus tech opportunities
The Peter Hargreaves-backed firm is led by manager and co-founder Stephen Yiu, who has delivered returns of 71.6% since inception, compared with the IA Global sector's 25.1%, and has managed to maintain this strong outperformance throughout the coronavirus pandemic, returning 21% year to date, five times the sector's return of 4.2%, according to data from FE fundinfo.
This outperformance is partly explained by a "strict discipline on valuation", according to Yiu, who reasoned that if "the share price has gone up more than the fundamentals justify, the valuation is less attractive and we will try to act on it".
"It works the other way round too," he explained. "If people are selling the stocks, and based on our view the fundamentals are unchanged, then we are very happy to be buying more rather than selling."
Doubling down
It is for this reason that the fund doubled its position in Amazon and PayPal during the March sell-off, pushing the names briefly into the top ten holdings, before letting those positions dilute over the course of Q3.
Elsewhere in the payments space Visa and MasterCard remain in the fund's top ten because they have "not done as well this year" due to their exposure to cross-border transactions, said Yiu.
"We stopped going on holiday in Europe so we used our credit cards less to pay for hotels and holidays, and [Visa and MasterCard] make quite a decent amount of money from that business, called cross-border.
"However, while the cross-border business has not come back yet, Visa and Mastercard are also exposed to e-commerce. That is not enough to compensate for the loss of business in cross-border, but at some point, it is sensible to assume cross-border will come back. If you then look at the valuation of the companies relative to PayPal, for example, it is definitely quite attractive, so that is where we have deployed our cash."
A company's valuation is linked to both fundamentals and volatility, and for Blue Whale, risk does not equal volatility.
"We do not define risk as volatility. We define risk as permanent loss of capital based on company fundamentals," Yiu explained.
"We like volatility because it gives us the opportunity to buy more of a company we like if we do not feel the volatility is justified by fundamentals. I do not really care whether the rise in share price is driven by retail investors, like people on RobinHood, or whether the share price rise was driven by institutional investors or competitors to Blue Whale."
'Low-quality businesses'
Yiu's fund has a notably heavy tech weighting, although he is keen to stress it is "not a tech fund", that has opted to shun many of the much-discussed FAANGs and mega-cap US tech stocks, with Microsoft and Facebook the only current such constituents of its top ten.
There are many "commonly talked about stocks" of this kind, which Yiu described as "low-quality businesses", including Netflix, Zoom, Uber, Tesla and Apple. Netflix is ruled out of contention for the fund because of "challenging" competition such as YouTube, Amazon Prime, Hulu, Disney+, Comcast and more.
"The problem for Netflix is not about them getting more subscribers, it is about whether they can actually deliver a high return on capital over a substantial period," Yiu explained.
"If they are continuing to pay top dollar for content, which would never change because you have other competitors doing the same thing, then they would never be able to deliver a high return on invested capital."
Zoom suffers from a low switching cost, according to Yiu, who pointed to other companies providing the same free services, such as Google and Microsoft, which means the company has no "strong competitive positioning" or pricing power.
Blue Whale launches UCITS mirror as flagship fund approaches third anniversary
"Anytime you raise the prices to a different level, then people would drop your service," he said. This argument also applies to Uber, among other taxi apps, because consumers have no "loyalty" to commodity services which "all do the same thing".
Tesla is a more "difficult" company for Yiu, who believes Baillie Gifford is "probably the only one in the world that has got it right" on the electric car manufacturer, having recently reduced its stake after taking large profits from its early investment.
For Blue Whale, the automotive space is "too competitive", filled with "the likes of GM, Ford, Volkswagen, Porsche, BMW, Audi and Toyota…and Tesla is just one of them".
Apple is also a "tricky" stock for the manager, who admitted "some people could argue we have got it wrong", but reasoned that Microsoft is preferable to Apple as while the latter is "trending towards a services business", Microsoft has already positioned itself as a business upon which consumers are dependent.
"Can [office workers] operate without Microsoft in our day-to-day lives? I think the answer is no."
Anti-trust
Yiu also pointed to the possibility of anti-trust laws leading to the breakup of some of the American tech giants as "good for shareholders" due to the multiple entities within these large firms.
"It is not good for Zuckerberg or Jeff Bezos in terms of their own egos," he said. "But it is good for shareholders because whichever way you cut it… there are two or three parts to these."
Anti-trust would result in greater regulation, which "is good for incumbents", argued the Blue Whale manager, who explained this outcome would result in higher barriers to entry.
He said: "Just like the asset management space - it is difficult for us to start as a small company because the regulation in our space is very intense and you need to have enough backing in order to start something. Regulation is actually good for the incumbent."
Back to Top