What lessons have been learnt over the decade since Lehmans collapsed? (Part III)
Four-part Big Question special
In the final part of our Lehmans 10th Anniversary Special, industry leaders and commentators reflect on the last ten years and discuss how the financial system has improved since the Global Financial Crisis (GFC), where more work needs to be done and what could trigger the next crisis.
Click here for part I and part II
Ian Marsden, investment manager at Redmayne Bentley
Cheap money was undoubtedly one of the main causes of the financial crisis. Interest rates across the Western world drifted lower for two decades from their 1980s peak, while the Federal Reserve, under the chair of Alan Greenspan, pumped liquidity into the US economy during downturns with such dependability that it became commonly known as the 'Greenspan Put'.
The ability to borrow cheaply and use leverage led to investors taking excessive risks, companies making sloppy decisions, and individuals over-leveraging themselves.
Central banks took drastic steps to avert the collapse of the global financial system, including slashing interest rates to historic lows and massive economic stimulus in the form of quantitative easing (QE).
This helped stabilise the financial system but came at the cost of, once again, encouraging excessive risk taking, inflating asset prices and distorting the financial markets.
Now that central banks' balance sheets have started to shrink, and interest rates are rising, investors who have grown accustomed to highly accommodative policies are now faced with the task of negotiating the end of an experiment for which there is no historical precedent.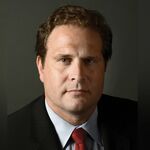 Vince Childers, portfolio manager of the Cohen & Steers Diversified Real Assets fund
The mindset of most investors remains framed by the GFC and the disinflationary period that followed.
However, we believe it is important investors do not dismiss the lessons of pre-GFC history and accept the possibility that markets can display different dynamics in the future.
One such environment, which we have seen in the past, is a period where inflation surprisingly accelerates to the upside. In this scenario, stocks and bonds typically struggle simultaneously and do not provide any portfolio diversification benefits.
In a period of inflation surprise, it is an allocation to real assets that tends to perform well and provide much-needed diversification.
Many investors are currently complacent in relation to inflation risks. Combine this with historically-elevated equity valuations and still-low bond yields and we could be witnessing potentially lethal portfolio positioning.
While many forward-looking institutional investors are continuing to increase allocations to real assets, many individuals remain content riding the stock juggernaut.
While real assets tend to perform well when risks are inflationary, this area of the market also currently offers considerable value - as real assets only partially participated in the risk-on rally experienced since 2008.
Colin Graham, CIO - multi asset solutions at Eastspring Investments
We are still in the middle of two giant economic experiments: QE and China's economic transition. Ten years ago, the subprime crisis precipitated the demise of Bear Stearns and Lehman Bros in the GFC and was only halted by central banks introducing QE.
This series of events should have been etched in everybody's minds and a reminder that cheap money and low interest rates lead to unsustainable debt burdens.
Since then, deleveraging should have been the number one priorityBut debt has just been shunted around the system and onto government balance sheets. Subsequently, the assets which are being reported on banks' balance sheets may not tell the whole story.
A clear reminder of this QE debate and debt sustainability linkages is demonstrated by the recent correlation of Turkey turmoil and eurozone bank stock price falls and sub financial debt spread widening.
With the Italian budget negotiations next up, the debate is going to intensify, and volatility rise. Are we heading towards GFC2? Or will the QE experiment prove successful? Nobody knows yet, but we are about to find out.
Back to Top